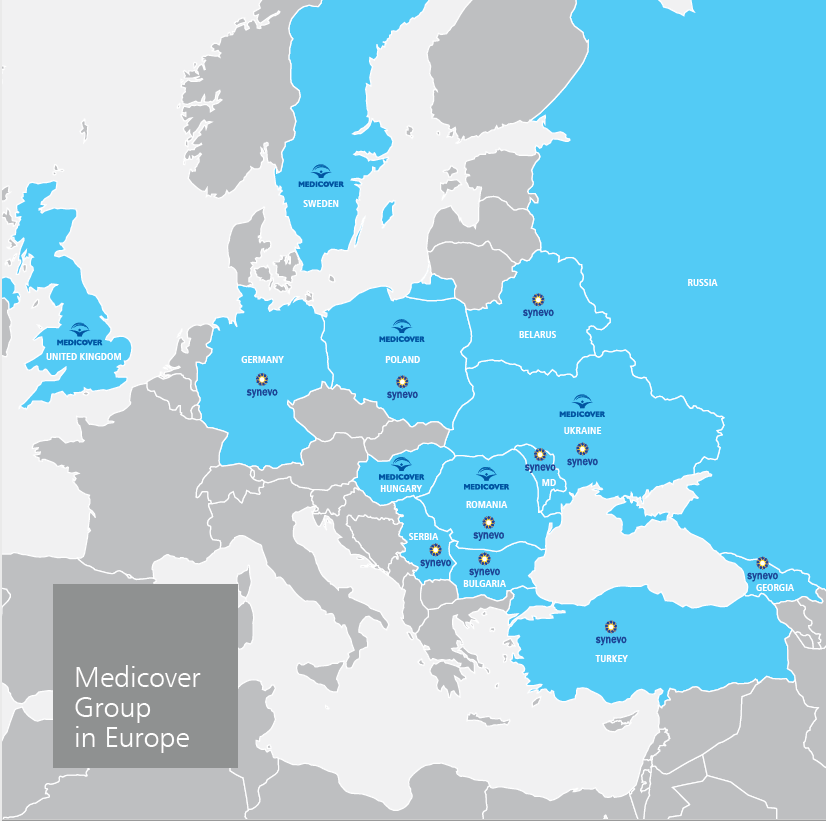 Since September 2012, Beo-Lab has become part of Synevo Laboratory and Medicover Group. Synevo / Medicover, a Swedish company, is a leading international private healthcare system established in 1995. Synevo laboratories are present in 10 countries (Germany, Poland, Ukraine, Belarus, Romania, Bulgaria, Moldova, Serbia, Turkey and Georgia). The Synevo network consists of over 100 medical laboratories that performed over 110 million laboratory analyses were for more than 12 million patients, as well as 400 units for sampling (blood, urine, and tissue). All laboratories and points meet the most demanding quality standards and are accredited according to ISO 15189, ISO17025 and GCLP (good clinical laboratory practice).
Synevo Laboratory Services are available to hospitals, state and private healthcare establishments, as well as to doctors and patients. In addition, Synevo Laboratories provide support to both pharmaceutical and biotechnology companies in carrying out clinical trials through the largest harmonized network of laboratories in Central and Eastern Europe.
In the largest Synevo Laboratory, located in Berlin, Germany, it is possible to analyze over 3000 different laboratory tests, which is a great benefit for patients who need the results of rare and new analyzes for diagnostic purposes.
Tests that are performed in Synevo Laboratories represent the routine, but also the most advanced laboratory parameters in the following areas:
Allergies and autoimmune diagnostics
Bacteriology and parasitology
Biochemistry and immunochemistry
Transfusiology / determining a blood type and grouping
Tumor markers
Clinical chemistry
Cytology
Hematology
Histopathology
HLA typing
Human genetics
Hygiene
Immunology
Diagnostics of infective diseases
Microbiology
Molecular biology
Pharmacology / toxicology
Medicover / Synevo pays great attention to the sustention and prosperity of the local communities in which it is present, and through the work of the Medicover Foundation, significant support is provided for humanitarian actions and sporting events throughout Europe.
More information on the Synevo / Medicover group is available at: