Quality management - the basis of a reliable laboratory finding
The quality of the laboratory results is a key basis for making a proper diagnosis and determining the appropriate therapy for the patient. Quality management of all laboratory processes (sampling and transportation of samples, laboratory analysis, storage of samples and results, interpretation of obtained results) ensures confidence in the results of Beo-lab laboratories. Our goal is continuous improvement in meeting the quality and technical requirements to meet the most demanding standards and specifications, thus ensuring our customers the highest level of confidence in the laboratory report obtained.
Accredited and certified laboratory SRPS EN ISO 15189: 2014, ISO 9001: 2015
Investment in quality is best seen through the continuity of almost 10 years of accreditation of Beo-lab laboratories (since 2008) according to the European standard SRPS ISO 15189, with Beo-lab being the first private and only pathohistological laboratory in our country accredited under this standard. Regular monitoring visits by the assessors of the Accreditation Body of Serbia constantly check and confirm compliance with the requirements of the standard "Medical laboratories - Requirements for quality and competence". In addition, Beo-lab laboratories meet all the requirements of ISO 9001: 2015, as evidenced by a certificate issued by SGS, a leading international certification company.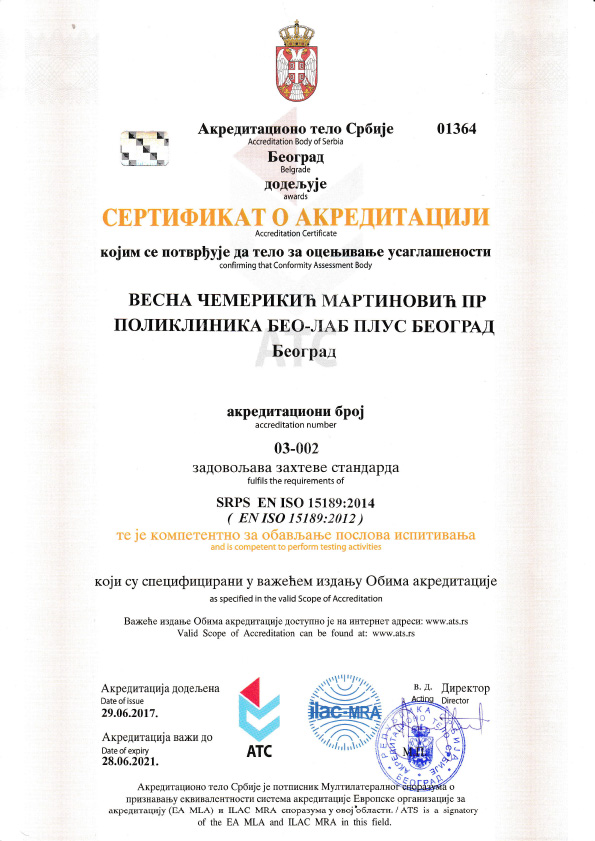 Choosing quality, Beo-lab has opted for participation in international external quality control (EQC) programs that allow comparison of the results of various laboratory tests obtained at Beo-lab laboratories in Serbia with the results of the same tests from other European and world laboratories. External quality controls participate in all Beo-lab laboratories (biochemical, microbiological and pathohistological laboratories), and the certificates of success of all completed annual external quality control cycles are stored in the Quality Sector. By continuously improving the quality of the processes and introducing new technologies and analytical methods into the laboratory work, Beo-lab laboratories are constantly developing their quality management system (QMS), whereby maintaining the highest quality standards is possible only if all processes in the system are under control and adequately coordinated. The Beo-lab lab model is supported by employees who, through advancing knowledge and skills, are the driving force behind the whole system.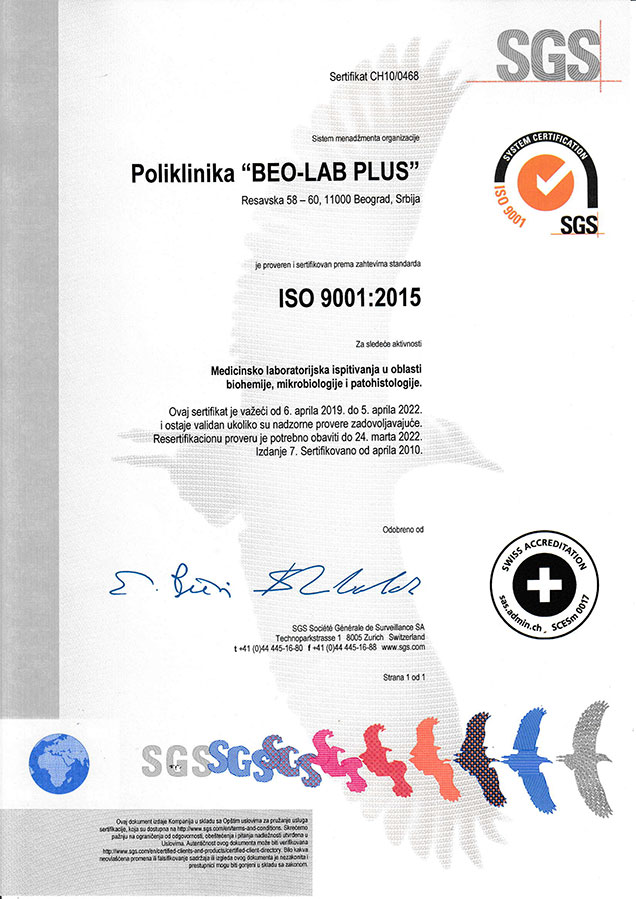 International recognitions and certificates