Welcome to the world of digital pathology!
It is a great honour to present digital pathology and our digital scanner.
Dr. Vesna Čemerikić-Martinović, a pathologist and the head of the Beo-Lab histopathology laboratory will introduce you to digital pathology and the digital scanner.
What is digital pathology?
Digital pathology is digital imaging of whole histopathological preparations (WSI – Whole-Slide Imaging) and their viewing on a computer. These images can be saved and viewed locally in the laboratory in which they were scanned or uploaded via internet to be viewed remotely in other laboratories. Digital pathology incorporates all related technologies which use digital slides in order to enable enhancements and innovation of the workflow. This includes lab workflow management systems, digital image analysis, integration of digital images into patient medical records, labelling and monitoring of digital specimens, as well as integrated creation of histopathology reports. The digitalisation of histopathological preparations makes diagnostics easier. The digitalised tissue can be analysed by computer algorithms, which drastically reduces the likelihood of human error.
Today, digital pathology is seen as the equivalent of traditional microscopy with regard to making primary histopathological diagnoses.
WSI is widely used by laboratories in the Netherlands, Sweden, Spain, Canada, Singapore and Great Britain for making primary diagnoses. There has been a sharp increase in the use of digital pathology in diagnostics in the United States of America due to recent approvals by the US Food and Drug Administration (FDA).
Digital scanners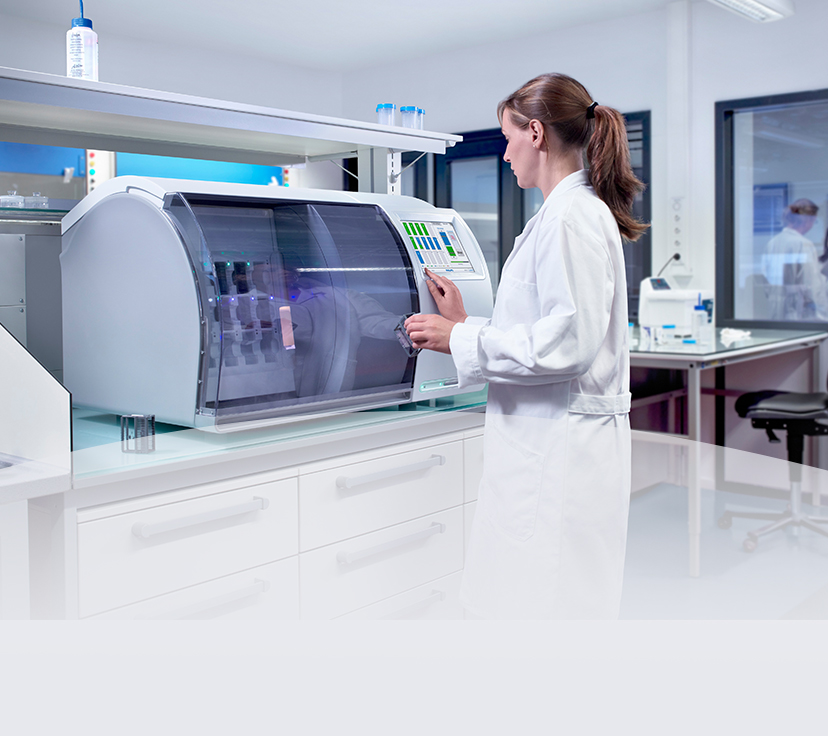 A digital scanner is an innovation in the world of digital pathology and it is estimated that within a few years, the whole pathology will go from the classic microscopic to digital pathology.
The Philips Ultrafast Scanner (Beo-Lab laboratories are the only ones that have it in Serbia at the moment) is the latest generation digital scanner. It is the only one that the US Food and Drug Administration (FDA) approved for primary histopathological diagnostics.
The scanning of prepared tissue samples is fast and easy
The scanning of the previously prepared tissue samples is very easy.
Histopathological preparations are inserted into special racks, after which it takes only 2-3 minutes for the scanner to perform the scanning process, that is, to fully digitalise a preparation (a plate).
Imaging is done in deep layers using a cutting-edge microscopic lens with x40 magnification. The image is digitalised, transferred and stored in a special folder in a computer.
In addition to the scanned tissue sample, the patient's file contains other patient data, their medical history, which is of great importance in diagnostics.
When the digital slide in the computer folder is opened, you initially get exactly what you would see if you were looking through a microscope. The tissue sample can then be moved and zoomed in, measured or compared to the same samples which have been stained immunohistochemically or using other methods.
The digital zoom – the door to a new world, the world of digital pathology
The "high magnification" or x40 magnification as pathologists call it is the maximum magnification a microscope can provide without the use of oil immersion.
The digital scanner has now made it possible to magnify tissue samples above the traditional high magnification. This is due to the digital zoom feature, which is what makes this scanner superior.
"When analysis is performed with the microscope, oil immersion is used, which is inconvenient and time-consuming. The image is never this clear as with the digital magnification", says Dr. Čemerikić.
This is of particular significance in certain areas of pathology, such as haematopathology or bacterial and microbial detection, where small detail are extremely important.
Digital pathology – the benefits
The benefit of a digital scanner is that, regardless of the area of pathology, we can see a tissue sample as it looks on the plate (1:1) and magnified up to x100 within 5 seconds only.
The possibility of digital magnification of tissue samples has opened up a whole new world, a world pathologists did not know about until now.
The main benefits of digital pathology
Ease and speed of getting accurate and reliable results, i.e. diagnosis. Digital diagnostics is faster than the classic microscopic diagnostics.
With certain types of tumour, acute leukaemias, advanced tumours, this speed is extremely important in order to be able to react quickly and start targeted therapy as soon as possible;
Accurate measurements, determining the area of certain changes in the tissue, determining the exact percentage of tumour cells, which is important for genetic analyses.
Tissue analysis using computer algorithms. This drastically reduces the likelihood of human error.
The possibility to consult or seek expert opinion from pathologists in the country or abroad if necessary in a manner which is fast and easy, practically within a day.
This has been made possible by this scanner which scans images and turns them into slides which look absolutely identical on the computer screen as they do under a microscope.
"This is the benefit of this scanner. Up to now there were no devices which could provide such an accurate and clear image and at the same time be so easy and convenient to operate," Dr. Čemerikić points out.
Sometimes there are complicated cases, where it is important to get the opinion of a medical advisory committee or to consult with experts in certain areas of pathology.
Pathologists can take part in medical advisory committee meetings regardless of where they are taking place.
With digital pathology, pathologists can be contacted easily and quickly no matter where they are in the world, because they only need a computer, laptop or mobile phone and one click of a mouse to gain access to a tissue sample.