Laboratory for histopathological and cytological diagnostics, processing and analysis of various tissue samples and paraffin blocks (moulds) previously processed in other institutions.
We apply all the modern methods of histopathological and cytological diagnostics: histochemistry, immunohistochemistry, in situ hybridisation (ISH), fluorescent in situ hybridisation (FISH) and cytogenetic analyses.
We have the most modern equipment for automatised processing of tissue samples and we use original reagents manufactured by the most renowned certified manufacturers in the world. All this is aimed at providing our patients with reliable and accurate histopathological findings and accurate diagnoses.
Getting an accurate diagnosis quickly
Due to the automatised tissue processing, the basic histological analysis of tissue samples (H&E preparation) obtained from endoscopic and incisional biopsies is completed within 24-48 hours, and of tissue samples obtained from surgery and bone marrow biopsies within 48 hours.
If additional analyses are performed (immunohistochemistry, ISH, FISH, cytogenetics), the processing and analysis last somewhat longer, up to 7 days.
A cytological analysis is completed on the same day. A modern device for ex tempore analysis during surgery makes it possible to get the results within 30 minutes upon the receipt of the material.
Our domiciliary service is ready to take samples and deliver the results to the desired address at any time during the day. The domiciliary service team also provides transport of the samples to the central laboratory under required prescribed conditions
We are the only histopathology laboratory in the country with a digital scanner which enables us to consult quickly with pathologists within the country and abroad.
We perform the following analyses here at Beo-Lab histopathology laboratory:
Cytologic analyses
Cytologic analyses are performed using smears of various organs, saliva, material obtained by puncturing cysts in various organs, material obtained from the pleural, pericardial and peritoneal cavity, cerebrospinal fluid, discharge from breasts and other organs, urine, as well as fine needle aspiration biopsy (FNAB).
The analyses include cell structure identification and malignant cell detection.
Cervical smears are stained using the Papanicolaou method. We perform HPV typing using the PCR method and determine low- and high-risk groups. Additionally, we are able to use the modern liquid-based cytology with simultaneous HPV typing with the same sample.
These analyses are performed on histological cross-sections of cervical biopsies. When HPV tests are positive, p16 is determined as the parameter of the high risk of cervical cancer.
Histopathological analyses
Standard histopathology includes processing and morphological analysis of tissue samples obtained by various invasive methods, as well as ex tempore diagnostics during a surgical procedure.
Additionally, morphological analyses are performed on submitted paraffin blocks previously processed in other institutions for consultation purposes.
Standard hematoxylin and eosin staining are used, as well as additional histochemical staining if needed to make a diagnosis.
In strictly defined cases, complying with modern pathology standards, additional immunohistochemical analyses are performed (a panel of over 300 different antibodies), as well as ISH, FISH, PCR and cytogenetic analyses.
We perform modern analyses which are important for modern cancer therapy: the breast cancer panel, the neuroendocrine tumors panel, microsatellite instability, the analysis of HER2, EGFR and PD-L1 status.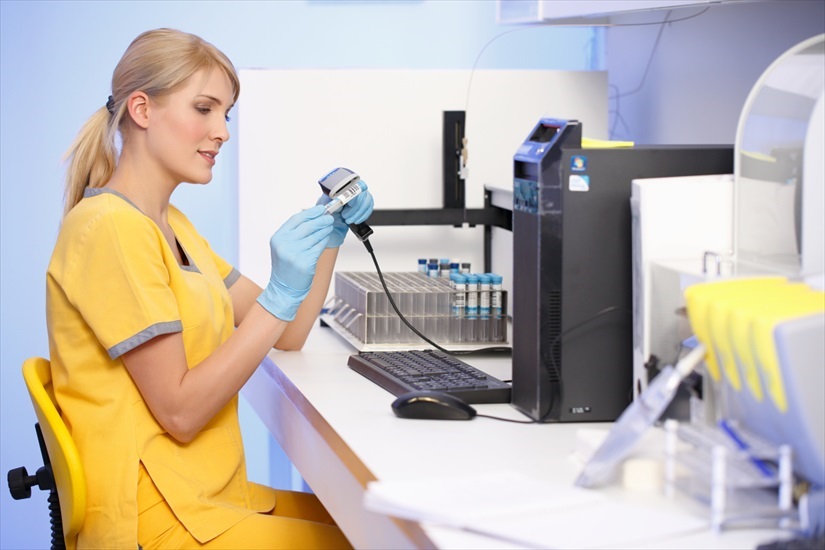 The following can be highlighted as a special segment of activities done in the histopathology laboratory:
Accurate determination of the type and stage of tumors.
Determination of the histogenetic origin of tumors.
Accurate classification of haematologic diseases (leukemia and lymphoma) according to the latest principles of the World Health Organisation through the application of IH and FISH.
Determination of hormonal profiles of neuroendocrine tumors.
Receptor status (estrogen and progesterone receptors) in breast cancer and other tumors when required.
HER2 status (immunohistochemistry and FISH analysis) in breast and stomach cancer, immunohistochemistry in all cases and FISH analysis as needed.
Proliferation index, metastatic potential, and parameters of resistance to therapy are determined as needed, using suitable immunohistochemical tests.
Cancer progression risk assessment in certain precancerous conditions (dysplasia) using ancillary markers (Ki-67, p53, p16, PTEN, etc.).
Identification of high-risk hereditary genetic disorders.
Differentiation of early or locally advanced and locally metastatic cancers (detection of micrometastases) in regional lymph nodes.
Determination of minimal residual disease (in bone marrow etc.).
Determination of prognostic factors and therapeutic prediction in classic chemotherapeutic agents using predictive biomarkers such as TS (thymidylate synthase), PDH (pyruvate dehydrogenase), VEGF, EGFR; in molecular inhibitors in targeted therapy such as HER2 status (IHH and FISH score system) for breast, stomach and heart cancer.
In situ hybridization method used to detect the presence of Epstein-Barr virus (EBV) infection.
Detection of viral or bacterial agents in tissues (H. pylori, EBV, CMV, HHV8, etc.).
FISH analyses of gene arrangements in lung carcinoma: ALK, ROS1
FISH analyses necessary for accurate lymphoma diagnosis.
FISH analysis of prognostic parameters for chronic lymphocytic leukemia and multiple myeloma.
PCR analyses of genetic mutations: EGFR, NRAS, KRAS, BRAF, JAK2 V617F, MYD88 L265P.