BREATH TEST FOR HELICOBACTER PYLORI
The specificities of Helicobacter pylori infection are: environment – stomach and strong urease activity. These characteristics affected the development of specific diagnostic tests – the rapid urease test and breath tests.
This is a non-invasive, non-radioactive test for determining the presence of Helicobacter pylori in the stomach, which is the most common cause of gastritis and peptic ulcer disease.
It is believed that it also impacts the occurrence of gastric adenocarcinoma and lymphoma, which are limited to gastric mucosa (MALT).
Diagnostic methods and tests are an important link in the multidisciplinary approach to Helicobacter pylori infection in clinical practice.
Together with the development of direct tests based on the biopsy of gastric mucosa, which are routinely used for completing upper endoscopy, indirect tests were also developed, which do not require endoscopy.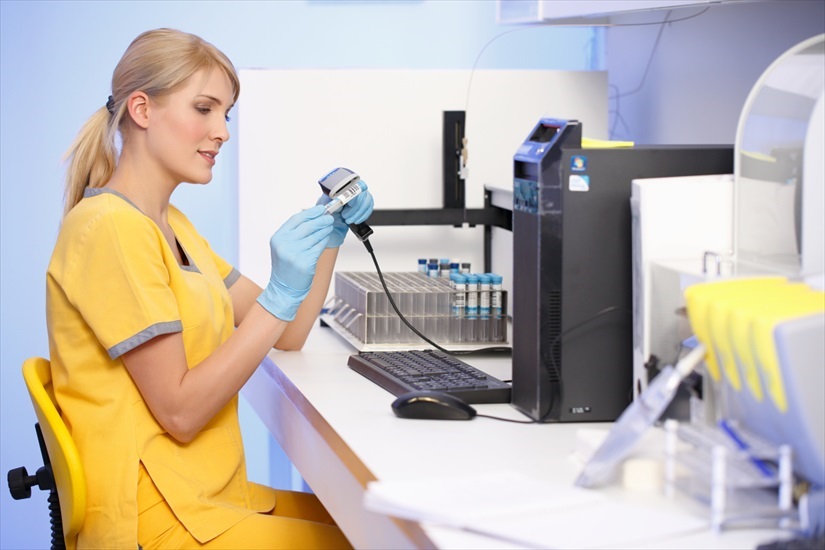 The rapid urease test is based on highly potential urease activity of Helicobacter pylori. The test has high specificity and sensitivity, it is easily performed, and results are obtained after 30 minutes.
The principle of the test consists of the fact that the patient should take a pill that contains urea with non-radioactive isotope of carbon 13C.
Urea dissolves in the stomach into two molecules of ammonia and a molecule of carbon dioxide (13CO2) which is absorbed in the intestines and eliminated in the lungs.
The sample of collected air is used for determining the isotopic ratio of 13C/12C with the spectrometer. The breath test "becomes" negative immediately after eradication (disappearance) of the bacteria.
The test has high sensitivity and specificity..
Two views should be taken into consideration in the control of eradication:
the test should be conducted one month after the eradication, and
at least 14 days after termination of taking acid-suppressing drugs,
especially PPIs.

A false-negative result is also obtained with the patients who had a gastric resection.
The isotope of carbon 13C is non-radioactive due to an extremely long half-life period, unlike the previously used isotope 14C, which is radioactive. Serology (determining IgA and IgG antibodies) may be used only for primary diagnosis of Helicobacter pylori, however, it may not be used for determining the effectiveness of the applied therapy (in terms of eradication of the bacteria) because the antibodies remain in the body for at least a year after the destruction of the bacteria.
The breath test for Helicobacter pylori is the only reliable test for the validation of a therapy, as it directly determines the presence of the bacteria (i.e. its metabolic activity).
THE BREATH TEST FOR HELICOBACTER PYLORI HAS A DIAGNOSTIC PRECISION WHICH IS IDENTICAL TO THE HISTOLOGY!
ACCORDING TO ALL GUIDES FOR GOOD LABORATORY AND CLINICAL PRACTICE, THIS TEST IS CONSIDERED TO BE THE SAFEST AND MOST VALID IN THE SCOPE OF ITS APPLICATION!