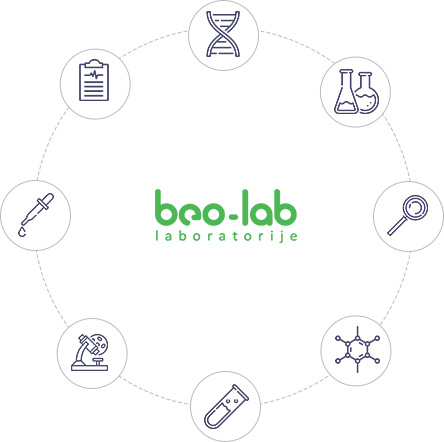 Beo-lab laboratories conduct sample testing in the field of biochemistry, microbiology, hematology and histopathology in accordance with the highest standards of laboratory practice and customers' requirements. The laboratories were established in conformity with all the requirements of the quality control of laboratories in terms of equipment, human resources, consumables, reagents and working conditions, based on the principles of good laboratory practice.
The latest technology, experienced experts
The laboratories have testing equipment with the most advanced technology as well as experienced and professional experts focused in their work on the achievement of precise and reliable results in the field of laboratory diagnosis.
Quality and efficiency
Quality and efficiency are our core principles as they are, and always will be, the key to our success and they make us a reliable and competent partner as well as doctors, medical personnel, hospitals, clinics, insurance companies, businesses and individuals.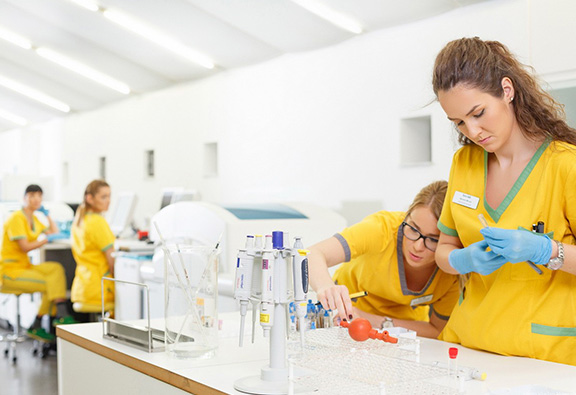 The latest technology

Experienced professionals

Quality and efficiency

Professional relationship

Certified laboratory
Superior
service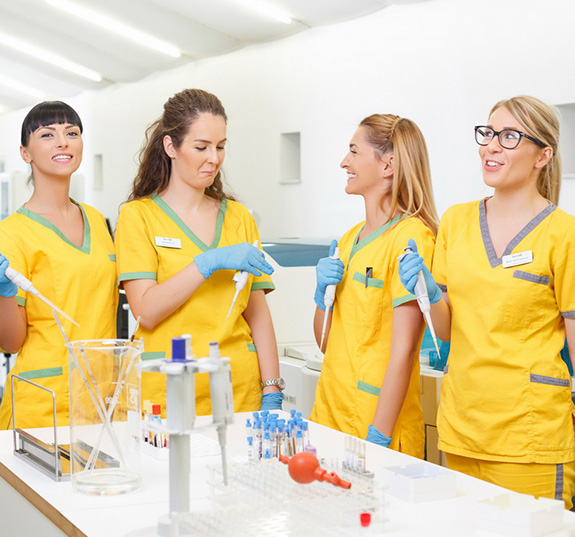 A friendly and professional relationship with customers
Cooperation with our customers is established on a close professional relationship, active communication and professional consulting services in any field of laboratory practice.
Superior health service
On-site Beo-lab laboratories work throughout the week, weekends and holidays, while on-call teams come to the indicated address and collect samples or deliver results. Users of health services can be sure that Beo-lab laboratories will get precisely determined and timely results of laboratory analyzes, interpretation of results, and expert advice on the selection of targeted analyzes.
Accredited and certified laboratory SRPS EN ISO 15189: 2014, ISO 9001: 2015
Beo-lab laboratories aim at achieving the highest level of quality of their services as well as meeting all the prescribed standards required for conducting laboratory activities, therefore, it should be mentioned that the biochemical laboratory is the first private laboratory in Serbia that is accredited according to ISO IEC 15189 European standard, and biochemical, microbiological and histopathological laboratories are certified according to ISO 9001 standard.
Integrated Laboratory Information System Silab
The Integrated Laboratory Information System (LIS), which manages laboratory equipment and controls sampling processes until the release of results, has been applied to Beo-lab laboratories since its establishment, which is one of the comparative advantages over other healthcare institutions. In response to the development of new information technologies, as well as the continuous improvement of the quality of services, the most modern laboratory information system - LIS Silab - was implemented in Beo-lab laboratories. Silab has been installed as a primary LIS in more than 200 laboratories across Europe, because it allows for the complete automation of laboratory processes, with the possibility of human error being reduced to a minimum. Automation includes all processes, from receiving to archiving samples, as well as managing documentation and data in a database. In addition to installing the newest state-of-the-art server system, its uninterrupted power supply, as well as backup and restoration of the database, is ensured in order to enable smooth functioning of the system in emergency situations. Some of the advanced features of LIS Silab provide a secure, remote access to verified laboratory results (the WebResults portal). In this way, there is an additional shortened time for the issuing of laboratory results, and the availability of laboratory services to users and easier search of archival results.